Peter Parcek & Seth Rosenbloom bands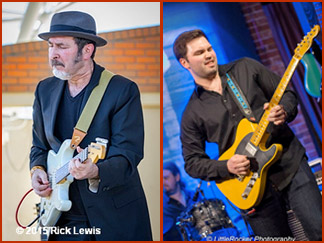 2-3-2023
Peter Parcek
is an award-winning blues guitarist hailing from Boston. Parcek's unique "soul guitar" style blends the very best of blues, both ancient & modern. His guitar work has been compared to Buddy Guy, Eric Clapton & Peter Green!
Peter's new album, "Mississippi Suitcase" has been nominated for 2021 Blues Music Award (BMA) for Blues Rock Album. Premier Guitar chose Mississippi Suitcase as one of the best albums of 2020! "Mississippi Suitcase is elemental: a celebratory bonfire, radiating Parcek's virtuosity, creativity, and musical intelligence... He is truly a master, and I love this album." -
Ted Drozdowski, Premier Guitar
"Peter Parcek is one of the most criminally underrated blues guitarists despite having earned a BMA nomination ten years ago... Whether through his biting tone, sizzling chromatic runs, bent notes, or judicious use of effects his guitar alone is worth every minute of listening but add to that his weary, spooky voice and Parcek creates a singular sound unlike anyone else on today's blues scene. His are the hard blues." - Jim Hynes Glide Magazine
"You're as bad as Eric Clapton & I know Eric Clapton" - Buddy Guy
Seth Rosenbloom
: Hailed by
The Boston Globe
as "a searing blues-rock guitarist," and
The Noise Boston
as a musician who "makes his guitar growl and has a voice to match," RosenBloom has been compared to "a slightly younger and rawer version of Matt Schofield ," by the
Blues PowR blog
, which also praised him for "his gravelly, forceful vocals and stinging guitar work."
"For me, playing the blues is all about expressing emotions," Rosenbloom insists. "What's always drawn me to the genre is the fact that it allows for an extraordinarily wide range of emotion. That, I think, is the key to making great music overall, and great blues in particular."


Now, with the release of his first full length effort, "Keep On Turning," he shows again why he has been referred to as the future of blues guitar. Throughout the album, Rosenbloom commands center stage, with able support from
Travis Carlton
on bass (Robben Ford, Scott Henderson),
Scott Kinsey
(Tribal Tech) on keys and
Gary Novak
(George Benson, Chick Corea) on drums. Produced by
Josh Smith
, a world renowned blues guitarist in his own right, Keep On Turning was recorded at Smith's Flat V Studios in Reseda, California.
Whether demonstrating his dazzling guitar riffs and stinging vibrato, or emoting with his soaring and sultry vocals, he brings a distinctive power and personality to each of his performances.