Johnny A Band: From A to Beatles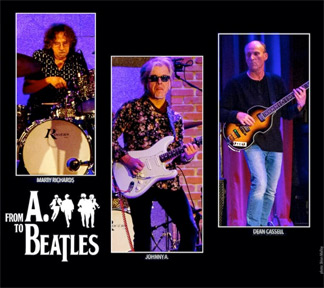 12/17/2022
Spearheaded by Boston Hall of Fame Guitarist Johnny A., and stemming from his passion for The Beatles, the new project, "From A. To BEATLES", is a collaboration of Johnny A. and like-minded musician friends to instrumentally "reimagine" the music of The Beatles.
From A. To BEATLES features some of the "best of the best" of Boston area musicians with legacies from such iconic bands as The Yardbirds, J. Geils Band, The Joe Perry Project, Peter Wolf, John Cafferty & The Beaver Brown Band, and Bobby Whitlock.
"From A. To Beatles" will take you on an instrumental musical journey celebrating the greatest rock band in history - THE BEATLES.
JOHNNY A. - Lead Guitar. Often referred to as a "musicians' musician" Johnny A. is an internationally recognized Grammy Nominated guitarist/songrwriter/producer. As well as having a very successful 20+ year career as a solo artist, he anchored J. Geils Band frontman Peter Wolf and his Houseparty 5 Band for eight years as musical director, lead guitarist and co-producer; was the touring lead guitarist for iconic British band The Yardbirds (2015-18), musical director/lead guitarist for Bobby Whitlock (Derek & the Dominos, George Harrison, Delaney & Bonnie). He has four solo releases, has been Grammy nominated, voted 2010 "Blues Artist of the Year" (Boston Music Awards) was inducted into the Boston Music Hall of Fame 2014, he has appeared as a featured guitarist on recordings by Peter Wolf, Jimmy Webb, Jim Peterik, Stuart Kimball (Bob Dylan) and others. Johnny A. is a Gibson Guitar Signature Artist (three models), Epiphone Guitar Signature Artist.
DEAN CASSELL - Bass. Highly regarded amongst his peers and in addition to being the current bassist for John Cafferty and the Beaver Brown Band, some of the artists Dean has played/recorded with include, in no particular order, Susan Tedeschi, Barrence Whitfield and the Savages, Four Piece Suit, Bo Diddley, Johnny A., Robin Lane,The Radio Kings, Nicole Nelson, Tony Lynn Washington, Andy Pratt, Super Genius, Laurie Mckenna, Michael Tarbox, amongst others. Dean has written and recorded music for television and film. Shows featuring his music include "Sex In The City," "Nurse Jackie," "America's Got Talent," "America's Next Top Model," "Run's House," "Along came Polly," "Our Lips Are Sealed" & "The Real Housewives."
Dean is a Grammy Nominated Artist, has four Boston Music Awards and has been inducted into Rhode Island Music Hall Of Fame.
MARTY RICHARDS - Drums. Marty Richards is nationally known as a "go-to" player for any setting. His innate sense of swing and unerring sense of time have graced hundreds of stages and one hundred fifty recordings, behind a list of artists that reads like a "who's who" of American popular music.
After Berklee College of Music, his professional career launched with a ten year stint in the Gary Burton Quintet. In 2015 Marty was inducted into the Rhode Island Music Hall of Fame, and was recently recognized by Zildjian for his thirty year association with the brand.