Women in Blues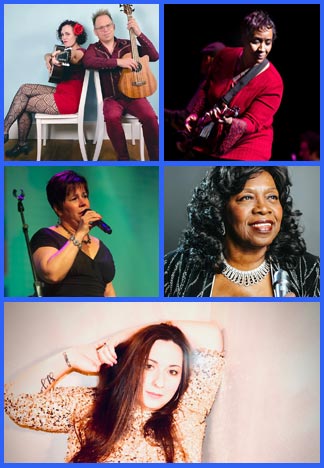 4-16-2022
Featuring Gracie Curran, Toni Lynn Washington, Diane Blue, Gina Coleman & Erin Harpe
"Erin Harpe Country Blues Duo" (or CBD) has been called "today's country blues at its very best" by Living Blues Magazine, who crowned Erin "one of the finest fingerpicking acoustic blues singers in the land"! Quickly becoming considered one of the premier fingerstyle blues guitarists today – male or female – Erin has earned a reputation as a captivating performer and passionate purveyor of the vintage country blues and roots music she was brought up on.
Misty Blues's Gina Coleman: 2019 International Blues Challenge finalist, Misty Blues, is led by lead singer/band founder Gina Coleman. The band is based out of Berkshire County, Massachusetts playing original and traditional blues with hints of jazz, soul, funk and tent revival gospel since 1999. They recently earned the 2021 CFAB Music Realm Best Entertainer Award and has amassed several Independent Blues Award nominations. Their original recordings have wide radio airplay in the U.S. and UK.
Diane Blue: Boston's DIANE BLUE is a "multi-talented performer who's equally at home belting out a blues
standard or cutting loose with a ferocious harmonica solo." (Bill Van Siclen, Providence Journal). Her
performances are captivating, charismatic and heartfelt, whether fronting her own world-class band
or singing alongside master Bluesman Ronnie Earl. Ms. Blue is the first female member of Ronnie Earl and the Broadcasters, prominently featured on the band's most recent six celebrated records,
including co-writing credits.
Toni Lynn Washington: Boston's Queen of the Blues, Toni Lynn Washington is a legendary performer with a long and storied musical history. Born in and raised singing in gospel choirs in Southern Pines, NC, Washington later went on to tour with R & B Artists like Sam & Dave and Jackie Wilson. With too many awards to name here, Washington's phrasing creates intense, powerful moods and emotions that truly sets her apart. As Boston Magazine so aptly put it, "she will make you melt."
Gracie Curran & the High Falutin' Band: Since coming together in Boston in early 2010, Gracie Curran & The High Falutin' Band have earned their reputation for jaw dropping Blues & Soul. With their amazingly energetic live shows and stunningly soulful sound, the band has quickly garnered the attention and adoration of fans and critics alike. In 2014 they won "Blues Artist of the year" from the Boston Music Awards. Blues Magazine says of Curran "a very soulful voice that can sound both loud and raw, intimate and fragile.