Lurrie Bell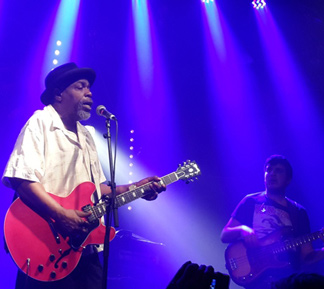 6-10-2022
Lurrie Bell, the son of famed blues harmonica player Carey Bell, picked up his father's guitar at age of five and taught himself to play. He was clearly gifted. In addition, he grew up with many of the Chicago blues legends around him. Eddie Taylor, Big Walter Horton, Eddie C. Campbell, Eddie Clearwater, Lovie Lee, Sunnyland Slim, Jimmy Dawkins and many more were frequent visitors to his house. They all helped to shape and school him in the blues, but none as much as his father's long-time
employer Muddy Waters.
By seventeen Lurrie Bell was playing on stage with Willie Dixon. In 1977 he was a founding member of The Sons of Blues with Freddie Dixon (son of Willie) and Billy Branch. In 1978 he joined Koko Taylor's band and stayed for several years.
Bell's knowledge of different blues styles, his soulfulness and his musical maturity delivered write-ups in publications such as Rolling Stone and The New York Times.
2002 saw the release of the CD Cutting Heads and in 2004 Alligator Records released Second Nature an acoustic duet record with his father Carey Bell that was nominated for a WC Handy Award Acoustic Record of the Year by the Blues Foundation in Memphis. In 2007 he started his own label Aria B.G. Records and released Let's Talk About Love, which has been called his most accomplished, deeply heartfelt album yet. On the strength of this record, he was voted Most Outstanding Guitar Player in the 2007 Living Blues Magazine's Critic's Poll, and in 2008 and 2012 he was named the magazine's Male Blues Artist of the Year. Since 2007 he has received multiple Blues Awards.
"An incendiary fusion of Chicago Blues boilerplate and his own mercurial imagination, hyperkinetic energy, and dazzling technical dexterity." David Whiteis – Chicago Reader
"If there is a Chicago blues child who perhaps epitomizes the blues life, it's Lurrie Bell…the premier guitarist in the Windy City." - Boston Blues News