PAULA POUNDSTONE
Loading Results....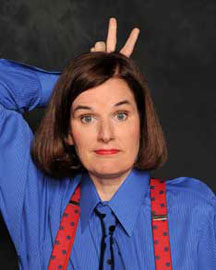 10-11-2012
* This is the make-up date for the 7pm Paula Poundstone show that was postponed on 9-21 due to Paula's airline troubles. If you have tickets to that show, they will automatically transfer to this one.
PLEASE CALL BULL RUN at 978-425-4311 WITH ANY QUESTIONS.

Appearing on stage with a stool, a microphone, and a can of Diet Pepsi, PAULA POUNDSTONE is famous for her razor-sharp wit and spontaneity. Audience members often leave complaining that their cheeks hurt from laughter. Hailing from Sudbury, MA she began her standup career as part of the Boston comedy scene, and then moved to San Francisco where she continued to flourish. By 1990 she'd moved to LA and starred in several comedy specials for HBO, as well as appeared on Saturday Night Live when friend and mentor Robin Williams hosted the show. Paula's first one-hour HBO special, "Cats, Cops, and Stuff." made her the first woman to ever receive the Cable ACE Award for best standup comedy special. In 1992 Paula got her own show on ABC, aptly named, "The Paula Poundstone Show", and behind-the-scenes coverage of that year's EMMY Awards for which she was critically acclaimed. She also became the first woman to perform at the White House Correspondents dinner. In 1996 she taped her second hour special for HBO, "Paula Poundstone Goes to Harvard." The Boston Globe said about Paula, "Poundstone improvises with a crowd like a Jazz musician…swinging in unexpected directions without a plan, without a net." Her off-kilter sensibility and impeccable timing made her a perfect fit for NPR's "oddly informative", weekly news quiz program, "Wait Wait…Don't Tell Me,". It took her eight years to write her first book, There's Nothing In This Book That I Meant To Say. "That's because I was writing it in real time," Poundstone jokes. Part memoir, part monologue, Paula's unique laugh-out-loud book features biographies of legendary historical figures including Abraham Lincoln, Joan of Arc and Sitting Bull. In 2007 BRAVO premiered Paula's newest standup comedy special: "Paula Poundstone: Look What the Cat Dragged In" The show was taped before a live audience in Los Angeles at the landmark Orpheum Theatre. Other credits include: Garrison Keillor's "A Prairie Home Companion;" Voice of Judge Stone on ABC's Saturday Morning "Science Court" aka "Squigglevision", and "Paula", the mom in Cartoon Network's "Home Movies". She has made numerous appearances on "Late Night with David Letterman;" "Sesame Street;" "To Tell The Truth" and "Comic Relief." In 2009 she released her first comedy CD: I HEART JOKES: Paula Tells Them In Maine, 60 minutes of the smartest comedy recorded live - because as Paula says, "It's very hard to do it any other way."