Blood Brothers: Mike Zito & Albert Castiglia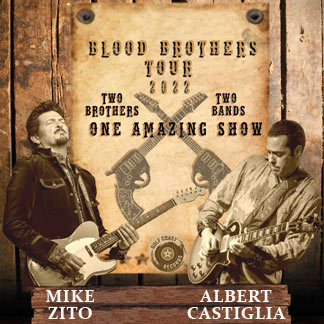 4-8-2022
Mike Zito and Albert Castiglia come together to create a musical journey unlike anything seen before in the Blues and Roots genre. Armed with a history of the Blues and Rock 'n' Roll, they bring both bands together to create the tour of 2022, "Blood Brothers."
Mike Zito is a

5 time Blues Music Award Winner

and Albert Castiglia is the

2020 BMA award winner

for Blues Rock Album of the Year, "Masterpiece." With both artists on the Gulf Coast Records label, it only made sense to join forces and give the fans what they wanted.
For over 45 years combined in the music business, Zito and Castiglia have toured the world spreading joy and bringing the music to the people. Blood Brothers will showcase each band for a set and then will end with both bands together onstage creating a sound of classic southern rock and blues.
This is a high-energy show of epic proportions! Daring and full of excitement, Albert and Mike come together in 2022 to bring you the most awaited tour in years, Blood Brothers.