Gary Hoey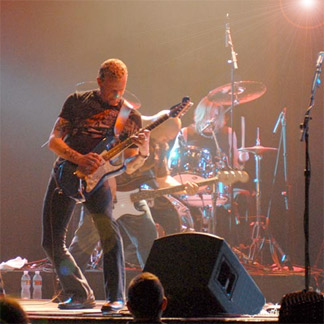 3-8-2019
World renowned rock guitarist Gary Hoey's first break came in 1987 when Ozzy Osbourne liked Hoey's tape enough to fly him to LA for an audition. Although Zakk Wylde wound up with the gig, Ozzy recommended Hoey move to LA where he was certain he would get noticed. So he did - thanks Ozzy - and it paid off. In 1992 Gary's cover of "Hocus Pocus" rocketed into the

Billboard's Top 5 Rock Tracks

.
With a collection of 19 albums it's no wonder Gary Hoey is listed as one of the

top 100 guitarists of all time

. In 1994 Hoey scored the successful "Endless Summer II" soundtrack for New Line Cinema. In 2012, he produced and co-wrote The Queen Of Metal, Lita Ford's latest release "Living Like Runaway" for SPV records to rave reviews. As Music Director for Rock n Roll Fantasy Camp, he's worked with legends like Joe Perry, Roger Daltrey, Yes, blues icon Johnny Winter, Robben Ford, Leslie West, and KISS drummer, Peter Criss. And he has toured and traded licks with the likes of Jeff Beck, Brian May of Queen, Ted Nugent, Joe Satriani, Steve Vai, Peter Frampton, and Dick Dale.
Hoey has explored many styles in his career, from hard rock to rock to surf to prog, and with 2013's "Deja Blues" he came home to the blues. On his latest CE "Neon Highway Blues," this ferocious guitarist fuses his blues and rock influences in eleven original songs with special guest appearanes from fellow Provogue guitarists Eric Gales and Lance Lopez, and Gary's son Ian. Due for an official release on March 15, get your signed advance copy at this show.

"I really wanted to make sure this album had a lot of Blues on it. I kept sticking to the Blues and listening to the classic players, all the Kings, Albert King, Freddie King, BB King, and finish with some Burger King (laughing)… and still put some songs for that my long-time, die-hard fans expect; instrumentals and some rockin' Zeppelin type stuff. There's definitely a variety here." One thing that remains consistent is Hoey's impassioned command of the guitar. He can attack his instrument with feral intensity and then play something very soft and achingly beautiful. This ability to mix feeling, phrasing, technique and tone is the true mark of a master guitarist.
"It's great to hear Gary sing and play the blues with his trademark intensity, feel and authenticity. And the guitar tones!" - Joe Satriani
VIDEO (Blues) - VIDEO (Surf) - VIDEO (Hocus Pocus)