Fort Devens 100th Anniversary: Together We Win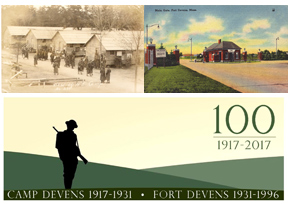 7-15-2017
Together We Win: World War I Dinner Dance to Benefit the Fort Devens Museum
One Hundred years ago the United States entered into the War to End All Wars and training camps sprang up around the country to prepare young men for their heroic combat across the sea in the trenches of Europe. Camp Devens "The Campsite in the Wilderness" was constructed near Ayer between June and September 1917 and trained tens of thousands of eager New England sons.
To celebrate the 100th anniversary of the building of Camp Devens and honor the men and women who selflessly gave themselves to the war effort, the Fort Devens Museum is pleased to hold a World War I Dinner/Dance at the historic Bull Run Restaurant on Saturday July 15th. A live dance band playing music of the era will capture the spirit and camaraderie of the era "when the boys came home."
$80 per ticket, $150 per couple or $550 per table of 8.