Joe Lynn Turner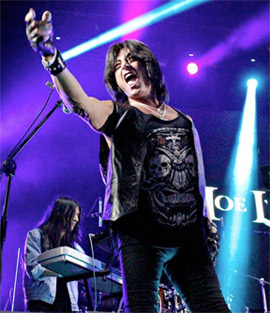 5-3-2017
Joe Lynn Turner's music career was turned around one day when, after extensive touring in the NJ band "Fandango," he received a call from legendary guitarist Ritchie Blackmore, who enlisted Joe to be the frontman between Blackmore and Roger Glover in "Rainbow," a band they formed after leaving Deep Purple. "Stone Cold" was Rainbow's first Top 40 pop radio hit and the band's innovative videos were in heavy airplay rotation on MTV. Turner co-wrote and/or sang on Rainbow singles that helped define the melodic rock genre: "I Surrender," "Can't Happen Here," "Jealous Lover," "Death Alley Driver," "Street of Dreams" and "Can't Let You Go."

In 1984, Blackmore reunited with Deep Purple, giving Turner freedom to work on his first solo album, "Rescue You," produced by Roy Thomas Baker, known for his work with Queen and The Cars. JLT co-wrote most of the songs with keyboardist Al Greenwood (Foreigner). The first single, "Endlessly," received extensive airplay on radio and MTV. A tour with Pat Benatar and acting role in the movie, "Blue Deville" followed.

Then in the winter of 1989, Blackmore and Deep Purple needed a lead singer to replace Ian Gillan. Turner was invited and found himself fronting one of the major bands he was influenced by as a teenager, releasing the album, "Slaves and Masters" and launching an extensive world. Turner wrote and sang on several tracks for a follow-up album that were never officially released. To this day, Blackmore maintains that "Slaves and Masters" is his favorite Deep Purple record since his reunion with the group in 1984.

With his current band Joe plays Rainbow and Deep Purple tracks along with other classic rock covers from his recently released "Sessions" album.
In a career that spans nearly 40 years and includes over 60 album credits,
Joe Lynn Turner remains one of rock and roll's most distinctive, soulful and expressive vocalists.