Jeff Root - CD Release Party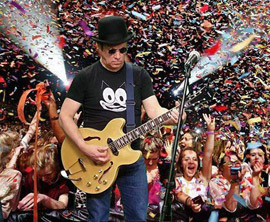 9-7-2014 - (Ballroom)
Jeff will celebrate the release of his 10th solo CD, "The Pig in the Python", along with rocking bassist-son Zack Root and long-time friend, powerhouse drummer, Grant Clark. "The Pig in the Python" features song collaborations with Zack, grandson Matt and drummer Kim Miller. Also featured on the CD are grandkids Matt and Alliyah and the multi-talented Chris Forgione (drums). Jeff and Grant were co-founders of the Boston band Hot Dates, along with Robb Millett, Sam Simcoe and Mitch Kary, who scored numerous hits including the #1 "Tune Into Me". Jeff also hopes to feature guest spots by other past collaborators Rob Carlson (Barker Gang, Dell Smart), Robb Millett (Spock Goes Mental, Big Girl Underpants), Martin Olson (SpongeBob, Disney's Phineas & Ferb, Adventure Time's Hunson Abadeer) as well as a first time reunion of all five members of Hot Dates. Jeff has collaborated and shared the stage with many well-known artists including The Kinks' Ray and Dave Davies, Leon Redbone, The Tubes and Edgar Winter.
A singer, multi-instrumentalist, audio engineer and producer, Jeff continues to write and produce one record of his original music each year as well as recording albums for many central MA bands and independent artists in his Root Cellar Studio.
Video #1 - Video #2 - Video #3 - The Pig in the Python preliminary mix tracks
Opening for Jeff will be short sets by four artists who are currently recording CDs at The Root Cellar:
Robb Millett: Jeff's former Hot Dates collaborator, an experimental, fusion-inclined, forward-thinking, rebellious, rock and roll, charismatic, genius, wild man.
G.S. Picard: Brilliant songwriter and gracious local music supporter who bridges the gap between folk and rock, equally at home with a finger-style ballad or a rhythm driven boot stomper. Gayle is also a concert promoter and host of the wildly popular Acoustic Café in Groton on Friday nights.
Jon McAuliffe: A riveting singer & amazing songwriter, former front man of Warner-Reprise band, "Thirty Days Out", former United Artists' staff songwriter and long-time folk rock artist who opened for The Beach Boys, Emmylou Harris, George Carlin, The Cars and many others.
Sam Bayer: Entertaining singer/songwriter and local favorite & mainstay of the Boston open mike scene. Literate, resonant and exuberant, he's a performer who will literally dance his characters across the stage.