Joe Louis Walker w/ special guest Murali Coryell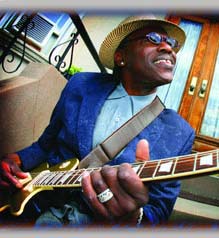 05-6-2011
Recently voted
Most Outstanding Guitarist
by "Living Blues" critics, Joe Louis Walker belongs in the very select club of original blues greats who revolutionized the art of the electric guitar. Walker was raised in the Fillmore district of San Francisco at a time when black blues and white rock lived hand in hand. And while honing his skills locally with the likes of
Lightnin' Hopkins, Fred McDowell, Magic Sam
and
Earl "Zebedee" Hooker
, he was very much part of the local psychedelic scene. "I knew
Carlos Santana
, the guys from
Jefferson Airplane
, the
Grateful Dead
,
Sly Stone
and
Larry Graham
. My roommate at the time was
Mike Bloomfield
." In the '80's Joe's band,
The Bosstalkers
, worked their way to the top of the profession with a series of stellar albums, produced by such luminaries as
Steve Cropper
and
Scotty Moore
that radically changed the landscape of late 20th Century Blues.
Considered one of the last of the great blues guitar heroes, alongside B.B. King, Buddy Guy and Otis Rush, Joe gives more than a 100 fiery performances on all continents every year, collecting awards like others collect pennies.
"Walker is certainly the most brilliantly innovative guitarist on the contemporary blues scene today. A fact that owes him the unbridled admiration of certified fans like Mick Jagger, B.B. King, The Edge, Bono, and Herbie Hancock, who show up at his concerts whenever the occasion arises." -
Bill Dahl, Blues Critic
For this show Joe will be joined by very special guest,
Murali Coryell
. As the son of jazz guitar legend Larry Coryell and author/actress Julie Coryell, Murali was born into an entertainment family. Coryell's latest CD release "Sugar Lips" has drawn praise from such music heavyweights as Jimmy Webb and Judy Collins. He can sing and play guitar with the best in the business.
Open: The Carl Johnson Trio -
The Carl Johnson Trio is a rootsy combination of many different blues/rock stylings performed in a stripped down trio format featuring Justin Beaulieu on drums and Arte K on bass guitar.