Willie Nile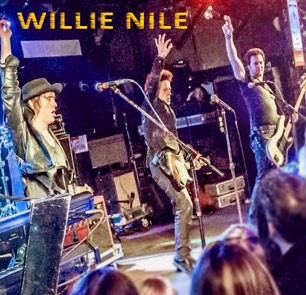 2-9-2018
Nestled somewhere between power-pop and American folk you will find Willie Nile strumming his guitar. Nile is a true believer in Rock n' Roll, and over the years has made admirers out of such names as

Bruce Springsteen

and

Pete Townshend

who personally requested him to tour with

The Who

.

His newest album, "Positively Bob: Willie Nile sings Bob Dylan" is getting great reviews. They will be playing some songs off of it. And of course signing them for you after the show.
Willie Nile is a Buffalo raised American singer-songwriter.

The New York Times

called him "one of the most gifted singer-songwriters to emerge from the New York scene in years."

Rolling Stone

listed Nile's album, "The Innocent Ones," as one of the "Top Ten Best Under-The-Radar Albums of 2011" and

BBC Radio

called it "THE rock 'n' roll album of the year." His album, "American Ride," won "Best Rock Album of the Year" at the Independent Music Awards. It appeared on over one hundred year-end Top Ten lists for 2013. Many have said "Streets of New York" (2006), "House of a Thousand Guitars" (2009) and "The Innocent Ones" that included the blazing anthem "One Guitar" (2010); stand as "three of the finest albums to ever straddle the worlds of "singer/songwriter" fare and good ol' street-tough rock 'n' roll".
Bono, Bruce Springsteen, Pete Townshend, Lou Reed, Lucinda Williams, Jim Jarmusch, and Little Steven are among those who have sung his praises. In November 2014 he released an album of piano-based songs, "If I Was A River," to universal critical acclaim. "One of the most brilliant singer-songwriters of the past thirty years" said

The New Yorker

.

No Depression

raved "Willie Nile's artistic renaissance continues unabated."
His 2016 album "World War Willie" appeared on numerous year end top ten lists as did hid his live shows. As

American Songwriter

said "Nile cranks up the volume and tears into these tunes with the same hunger, passion and exuberance he displays in his legendary sweat-soaked shows." World War Willie was voted "Album Of The Year" by

Twangville Magazine

and the song "Forever Wild" was named "Coolest Song In The World" by

Little Steven's Underground Garage

.
Willie has toured the U.S. with The Who and has sung with Bruce Springsteen and The E Street Band. As the induction program from the Buffalo Music Hall of Fame says: "His live performances are legendary." In the summer of 2017 Willie released his 11th studio album "Positively Bob – Willie Nile Sings Bob Dylan" to rave reviews. He is currently bringing his electrifying live show to audiences worldwide - don't miss him!
"Willie Nile is a great artist. If there was any justice in this world, I'd be opening up for him instead of him for me." - Lucinda Williams
"Willie's so good I can't believe he's not from New Jersey." - Little Steven
"The impassioned voice, the sharp and soulful lyrics, the interesting shoes and large, Kramer-like hair which seems to grow thicker every year - Willie Nile brings it all into focus. Listen to this record." - Graham Parker
VIDEO