SHEMEKIA COPELAND - NEW YEAR'S EVE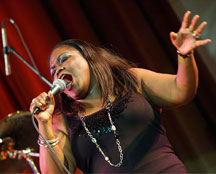 12/31/2012 - NEW YEAR'S EVE

SAY GOODBYE TO 2012 WITH BLUES BELTER,
SHEMEKIA COPELAND AND HER RED-HOT BAND.

TICKET PRICE INCLUDES: DINNER, SHOW, CHAMPAGNE TOAST, PARTY FAVORS, TAX & TIP. - PARTY LIKE IT'S 2013 !

Shemekia's newest CD "33 1/3", nominated for a Grammy for "Best Blues Album".

From the softest whisper to a growling, full-throated blues roar, vocalist Shemekia Copeland boasts a dynamic range and a vibrant personality that together have the music world hailing her as a diva in the making.
Daughter of the late Texas blues guitar legend Johnny Clyde Copeland, Shemekia was schooled in his Texas-style blues. But her experiences growing up on the streets of Harlem have infused her music with a deeply personal touch that remains decidedly accessible.
Following the release of her debut album, "Turn the Heat Up", Copeland began receiving a long list of accolades from critics and fans alike. The Village Voice called Shemekia's voice "nothing short of uncanny," while Living Blues referred to it as "pure, beautifully unaffected and powerful." And The Boston Globe proclaimed "She roars with a sizzling hot intensity."
While still in her 20s, she's opened for the Rolling Stones, headlined at the Chicago Blues Festival and numerous festivals around the world, scored critics choice awards on both sides of the Atlantic (The New York Times and The Times of London) and shared the stage with such luminaries as Buddy Guy, B.B. King, Taj Mahal and John Mayer. Heir to the rich tradition of soul-drenched divas like Ruth Brown, Etta James and Koko Taylor, Copeland's shot at the eventual title of "Queen of the Blues" is pretty clear. By some standards, she may already be there.

"She belongs to the school of blues belters whose roars could move rocks up hills" - Jay Ruttenberg, Time Out NY

Watch Shemekia's performance on The Letterman Show HERE

More info at: www.shemekiacopeland.com/

Open: The Juke Joint 5 - This is high-energy Blues, rooted in many influences; from Mississippi Delta to Chicago's Golden Age; the raw horn-driven urban jump bands of the 1940′s-50′s; the ecstatic irreverence of early rock and roll with a dash of rockabilly twang. This is blues with a beat, blues you can dance to.