THE STOMPERS - 35th Anniversary Party!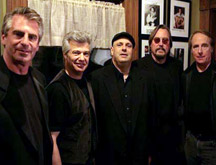 11-24-2012

Can't Stop The Rock 2012!

The Legendary Stompers played their very first show in November 1977. The band has long been recognized for their raucous live shows; kept alive for more than three decades by a spirited legion of dedicated fans. The Stompers music appears in the John Sayles film,"Return Of The Secaucus Seven" and the cult classic, "Fraternity Vacation". Their radio hits include, "Never Tell An Angel", from their 1983 Lp for Boardwalk Records, along with "Coast to Coast", "Rock, Jump and Holler", "Eastside Girl", "One Heart For Sale" and "American Fun", appear in Adam Sandler's new movie, Grown Ups, released in June, 2010. The list goes on, as do The Stompers! The band will play a limited number of shows this summer winding up the year at the Bull Run with a concert on November 24th in celebration of their 35th anniversary! This is Thanksgiving weekend so bring all your friends & family and rock off those calories. "STOMPILATION!" the band's recent 18 track compilation featuring all original recordings from 1983-85 was released in 2009. It is available at all live shows, www.thestompers.com, as well as iTunes, Cd Baby etc.