NEW YEAR'S EVE with J. GEILS & JEFF PITCHELL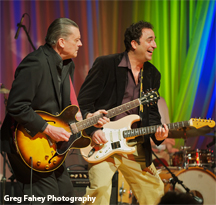 12-31-2011 (SAWTELLE ROOM)


SAY GOODBYE TO 2011 WITH THE MASTERS OF BLUES
TICKET PRICE INCLUDES: DINNER, SHOW,
CHAMPAGNE TOAST & PARTY FAVORS
We also have overnight packages which include
all of the above plus a room with breakfast
at the nearby Hilton Garden Inn
(Please reserve early for the best seats)



If you haven't seen them together, do yourself a favor and check out this Geils/Pitchell super-group. You will dance; you will party; you will go home happy! The back-up singers alone are worth the price of admission.

J. Geils needs no introduction around these parts. Fresh from his reunion with the full J. Geils Band in August along with Aerosmith at Fenway Park, producer, writer, singer and sports car restoration expert J. Geils is a rockin' master of the blues. Known for several huge classic hits and a soulful approach to the blues, J has now been nominated for the Rock Hall of Fame. Team him up with Jeff Pitchell & Texas Flood and you have a show not to be missed.
Jeff has been blistering the paint off the walls of most clubs in the New England area for some years now and he is one of the hottest guitar slingers on the circuit, drawing comparisons to Jimi Hendrix or Stevie Ray Vaughn. His CD, Heavy Hitter, reached #7 on the Billboard Charts. Along with Texas Flood they tear up a rich mix of R & B, Rock, Soul and funky Texas Blues. Also on the bill at the Bull is very special guest Gerry Beaudoin, who will add his own sassy guitar to the mix for a rare night of dance and frenzy. Together they will be playing some of the J. Geils Band hits as well as some of Jeff's songs and, of course, blues, blues, blues...