OLD The Kennedys OLD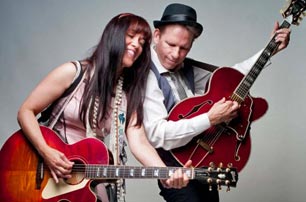 9-20-2013 (Ballroom)

Pete and Maura Kennedy met at the Continental Club in Austin Texas. Within a few weeks, they went on their first date at Buddy Holly's grave in Lubbock, TX, and within a year, they were touring together, as part of Nanci Griffith's band, and as the opening act on Nanci's two month tour of the British Isles. In a dusty little dressing room on the top floor of Dublin's Olympia theatre, they penned the songs that would become their first CD, "River of Fallen Stars". The CD was awarded the "Indie" award in 1995 for "Best Adult Contemporary CD" by the National Association of Independent Record Distributors. Ten CDs and several side-projects later (The Strangelings, The Stringbusters, and their solo projects), they enjoy loyal followings in both the guitar camp and the singer-songwriter set. Ultimately it's their tight harmonies, their chemistry, and their unashamedly idealistic outlook that has carved them their own niche in the studio and onstage.

Open: Hayley Sabella - With clever lyrics based on the notion that the best songs start with having something to say, Hayley Sabella pulls not only from her past musical influence but through her contemporaries as well. Drawing from names like Jeff Buckley, Anais Mitchell, and Sufjan Stevens, Hayley defines a style that is passionate, dynamic, and all her own.