JOAN OSBORNE: The Love & Hate Tour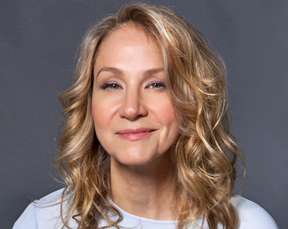 6-12-2015
Whether you know Joan Osborne for the mega-hit "What if God Was One of Us" or for her fiery cover of "What Becomes of the Brokenhearted" from the movie

Standing in the Shadows of Motown

, it's clear that the singer is no cookie-cutter alt-babe.
This diverse and soulful singer-songwriter earned seven Grammy nods, sang lead with The Grateful Dead, shared stages with such divergent talents as
Luciano Pavarotti, Bob Dylan, Emmylou Harris and Patti Smith, graced the

Grand Ole Opry

stage and participated in the

Lilith Fair

. "I just love so many different kinds of music. I know the conventional wisdom about having a career is to define yourself very clearly and just be that one thing really well," Joan says. "But I always felt that I wanted to try everything that I was drawn to. I have been very lucky that I've been welcomed into all these different musical worlds and musical environments."
Osborne's new album, "Love and Hate" is one of her most personally-charged, creatively ambitious efforts to date. "This one feels a little different," Osborne says of her new release. While she has already earned a reputation as both a commanding, passionate performer and a frank, emotionally evocative songwriter, her soulful songcraft reaches a new level of musical and lyrical resonance on Love and Hate.
Joan will be accompanied by her amazing pianist, Keith Cotton, at this show, so you can expect many familiar favorites along with selections from this wonderful new album.
"There's a substance and depth here that is not easily achieved.. Osborne is getting more interesting with time." - RollingStone.com
"4 stars... a triumph of 'love'... Osborne's back with a sparkling theme album…a fine, and focused, collection of music." - New York Daily News
"Her sweet yet husky voice is a wonderfully expressive instrument, bringing emotional honesty, a.k.a. soul, to every performance..." - American Songwriter