Dan Hicks & his Hot Licks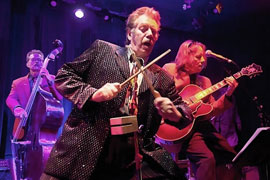 11-14-2014 (Sawtelle Room)

The Smooth-singing, finger-poppin', hep scattin',
one & only icon of West Coast Jive 'n Jazz.
Dan and the Hot Licks newest live recording, "The Best of Dan's 70th Birthday Celebration," recorded live at Davies Symphany Hall in San Francisco and loaded with guest stars galore is available now and will be ready for signing at this show. If you have only one Dan Hicks album, this should be it.

Dan Hicks' long, strange trip began in the 1960's San Francisco where his first band, The Charlatans, were an integral part of that psychedelic scene. Later he put together an acoustic combo which included two female backup singers, dubbed "Lickettes". Billed as Dan Hicks And His Hot Licks, the group went on to produce the critically acclaimed and commercially successful albums "Where's The Money?", "Striking It Rich" and "Last Train To Hicksville". They toured worldwide and Dan appeared on the cover of Rolling Stone magazine three times. Dan earned his reputation as the originator of lively "folk jazz," blending the best parts of jazz, swing, and country into his own unique style that fellow rocker Tom Waits calls "fly, sly, wily, and dry."
Throughout the 60s and 70s there was no one who sounded at all like Dan Hicks & the Hot Licks, and remarkably, 35 years later, there still isn't. Today Hicks, with female backup singers, "The Lickettes," presents his usual droll humor and impeccably-written tunes, incorporating Western swing, Gypsy folk, bluegrass, and bossa nova. "Dan Hicks is an American Treasure.

'I Scare Myself' and 'It's Not My Time to Go'... I think they're two
of the best songs ever written" - Elvis Costello

"Dan Hicks is lightning in a bottle." - Bette Midler

"The eternal hipster, purveyor of the drollest and most swingin' tunes
the rock generation ever enjoyed" - Minneapolis Star Tribune

Watch video HERE
OPEN: Adrien Reju - with her strong, clear Patsy Cline-esque voice and old-soul quality songs with contemporary hooks, Adrien will draw you in as she seems to peer directly into your heart.