JOHN SEBASTIAN with Paul Rishell & Annie Raines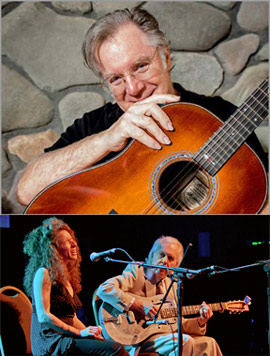 6-7-2019

The songs of John Sebastian have become a permanent part of our American musical fabric. His group The Lovin' Spoonful played a major role in the mid-'60s rock revolution... You know the songs by heart: "Do You Believe In Magic?" "You Didn't Have To Be So Nice." "Daydream." "Younger Girl." "Did You Ever Have To Make Up Your Mind?" "Summer In The City." "Rain On The Roof." "Nashville Cats." "Six O'Clock." "Darling Be Home Soon." "Younger Generation."
The Lovin' Spoonful was not his first act, and it certainly wasn't its last. After leaving the Spoonful, he moved into a solo career with performances at Woodstock and its English equivalent the Isle of Wight Festivals. And, of course, "Welcome Back Kotter". Throughout the '70s and '80s he continued to record and tour, pleasing old fans and winning new ones. The '90s also saw John return to the group format with the J-Band, a contemporary celebration of his jug band heritage. And his induction into the Rock 'n Roll Hall of Fame in 2000 hasn't slowed him down a bit.

Opening and joining John onstage are Paul Rishell & Annie Raines, who need no introduction at Bull Run. Paul & Annie are not only Bull Run favorites and musical luminaries in their own right, they are the perfect accompanyment to John's music. After 25 years and six albums, Paul and Annie have become the blues' most dynamic duo, racking up hundreds of thousands of miles on the road in the U.S. and Europe. Their album "Moving To The Country," was the W.C. Handy Award winner for Acoustic Blues Album of the Year, "Goin' Home," which was nominated for two Handy Awards and the live recording "A Night in Woodstock," featuring special guests John Sebastian, Bruce Katz, and their own backing band, Mojo Rodeo (pronounced Ro-DAY-o).

Don't miss this rare chance to see John Sebastian with Paul Rishell & Annie Raines.