Jim Kweskin & Geoff Muldaur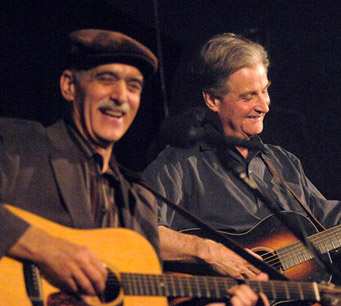 10-7-2016


In the 1960s
Jim Kweskin and
Geoff Muldaur led the groundbreaking Jim Kweskin Jug Band, admired and imitated by everyone from folk and blues musicians to rockers like The Lovin' Spoonful and The Grateful Dead, but their new album, "Penny's Farm," isn't a victory lap or nostalgia trip. Back then they were exciting because they had a gift for combining a loose, good-time feel with an astonishingly high standard of musicianship, making old songs feel quirky, hip, and new, and "Penny's Farm" is exciting because they still have that magic.

Ed Ward, senior rock critic for NPR, once listed the most important bands of the early 1960s as the Rolling Stones, the Beatles, the Byrds, and the Jim Kweskin Jug Band. John Sebastian of the Lovin' Spoonful recalls that his band, like the Grateful Dead and "a host of others," started out imitating the Jug Band. Bob Dylan co-billed with Jim in Greenwich Village. They had Janis Joplin as their opening act. And of course Dan Hicks & His Hot Licks were the unofficial succesors to the Kweskin Band's legacy.

The songs reach back to the roots of American folk music, but the performances are sparked by the interplay of two artists deeply immersed in traditional styles, who know each other well, but have distinctly different styles and temperaments: Geoff is a meticulous arranger, while Jim prefers "to find a bunch of musicians I like, work up some tunes, and just let 'er rip." Working live in the studio with a small group drawn from some of the finest musicians on the contemporary Americana scene, they've made a record that perfectly captures that mix of care and energy. It feels relaxed and fun, but with a lot of living behind it - new music from artists who've traveled a long way since the 1960s, and never lost touch with their passion.

When it comes to acoustic folk, blues, and ragtime, Jim Kweskin and Geoff Muldaur are unparalleled exponents of the best aspects of American music.

Listen to the Kweskin Jug Band HERE

Read "Stumbling into Jugband OR How I learned to be a Viper"