Johnny A *OLD*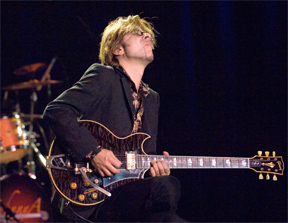 2-11-2017

Fresh off the road from his wildly successful tour with The Yardbirds,
Johnny A is back with his own band and ready to "let the music do the talking."

For the better part of three decades, this Massachusetts-based guitarist and bandleader has proven himself capable of generating heat at venues from working-class bars to international amphitheaters, and every sort of venue in between. And when the house lights are turned up, he's just as adept at captivating serious students of the six-string with a virtuosity that earned him the rare honor of having his name placed on a signature Gibson® guitar.

Widely regarded as one of America's finest contemporary guitarists, Johnny spent a year and a half at Berklee School of Music, but had no real interest in the textbook bebop they were dishing out at the time. His first group, "Squanty Roo" played Fusion and by '75 he had a much more stripped down basic rock unit called "The Streets", who scored a major radio hit with "What Gives."

In the '80's he hooked up with legendary J. Geils Band front man Peter Wolf, playing on his albums and co-producing one of them, as well as touring with Wolf around the world. After Wolf, Johnny put out a string of solo instrumental guitar albums which brought him much notice and acclaim with their warm guitar tones and alluring melodies. This led to signing with Steve Vai's Favored Nations label and an ever-widening circle of gigs with the likes of B.B. King, Robert Cray, and Jeff Beck plus an appearance at Eric Clapton's "Crossroads Guitar Festival" in '04. And, most recently, the guitarist in The Yardbirds tour this fall.

Johnny's new album, "Driven," serves up plenty of guitar wizardry and great melody, in more flavors than Baskin-Robbins and Ben and Jerry's combined. From the Motown-inflected party-starter "C'Mon, C'mon" to the introspective "A Mask You Wear" (a song that's flecked with subtle slide playing redolent of George Harrison's vintage work). What he proves again and again is that "you can have all the chops in the world and be voiceless – but I always want to have a voice."

"Driven" is on sale now and will be available for signing at this show.