The Installers - Blues & Barbeque Party!
Loading Results....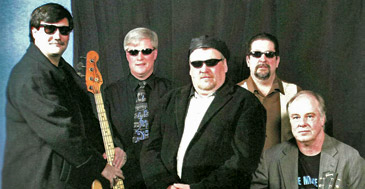 7-5-2013
The Installers play the blues. Sounds simple, right? Think again. At one end of the band you have drummer Jim Burns itching for a romp through "Texas Flood," or any other sort of Austin-inspired, guitar-driven blues. At the other end, guitarist Kevin Visnaskas is teaching The Installers Tiny Grimes's 1940s jazz blues "Drinking Beer." Yet this long-running combo formed by Burns and singer Stephen Clarke manages to pull it all together and remain a popular draw around New England...
"What's cool about this band is the constant creative tension," Visnaskas said. "I'm more the jazz guy, even though I grew up in rock bands and still love it. But if I had a second life, I'd be a jazz musician. Jimmy and Steve want to blast it out. I rein in, they push out." And it works like a well-oiled machine." ...The Installers have been rockin' people in clubs around New England for more than thirteen years. They've played with some of the best: Roomful of Blues, Duke Robilard, and Sugar Ray Norcia to name a few. They've also had the privilege to play alongside Rock and Roll Hall of Fame nominee Jay Geils, who joined them for a handful of shows over the past several years and produced their first album, "Nail It". Over the years the band has had line up changes but have stuck to their principle dynamic sound that fans come to expect at their shows. In the summer of 2009, after being together for almost 10 full years in one form or another, the band took a hiatus. Some of the members needed to get re-charged. Another left. And with that break and the idea brought up of having horns in the mix, the band has been resurrected!
Their current line-up is Stephen Clarke - vocals, Kevin Visnaskas - guitar, Shawn McCann - keyboards, Jim Burns - drums, John Bruner - bass guitar and Jeff Giacomelli - saxaphone.